Blue Protocol Closed Beta Registration Guide
Bandai Namco are opening registration for Blue Protocol's Closed Beta test on February 12th, 2020. As of this moment, the registration page for Blue Protocol is unavailable, with the page opening on the 12th. However, registering for the Closed Beta requires you to have an active Bandai Namco account. Thus, thanks to the BlueProtocolDB website, I compiled a list of how to go about registering in anticipation of the Beta. The beta registration will be available from February 12th until March 4th, when applications will no longer continue to be accepted. The Closed Beta is expected to go live sometime towards the latter half of March.
Step 1: Bandai Namco ID Website
Navigate on over to the official Bandai Namco ID website using the button below.
Next, you're going to see the following page.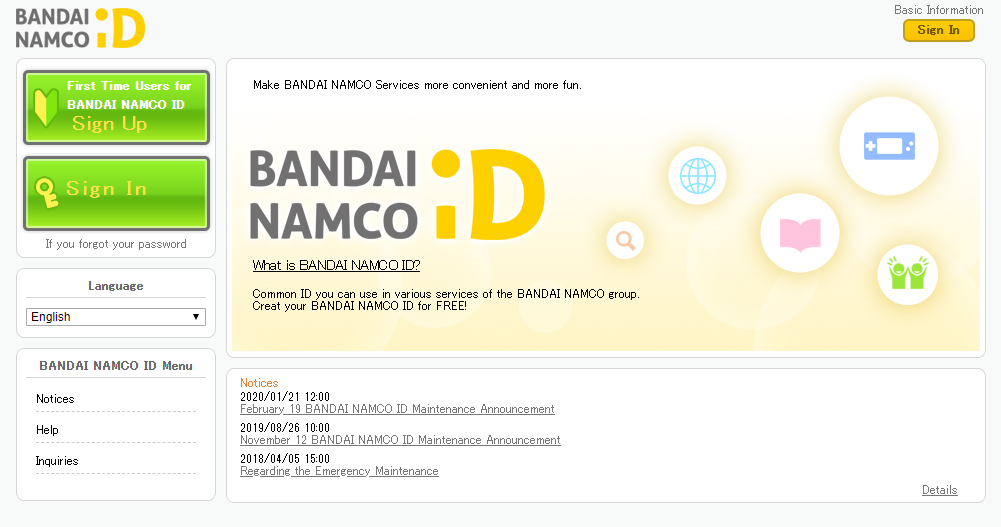 On this page, you want to select the large green button that says "First Time Users for BANDAI NAMCO ID Sign Up"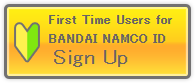 Step 3: Select your Email-Address
Next, you're going to see various different methods with which you can use to register for an account. Alternatively, if you already have a Bandai Namco ID.. you could log in with it and verify that it works. Otherwise, you're going to want to select "Sign Up With an E-Mail Address"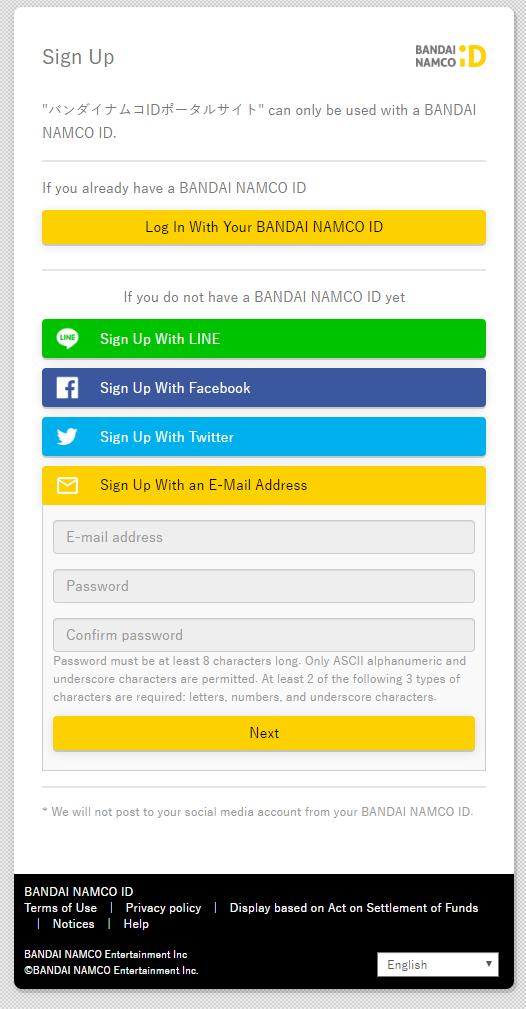 Enter your email and password like you would during any registration process. Do note: Make sure your password is unique and strong enough that it doesn't get hacked. 'cause that'd suck.
Step 4: Change your region
After proceeding to fill in your email and your password and clicking the "Next" button, a new window will pop-up.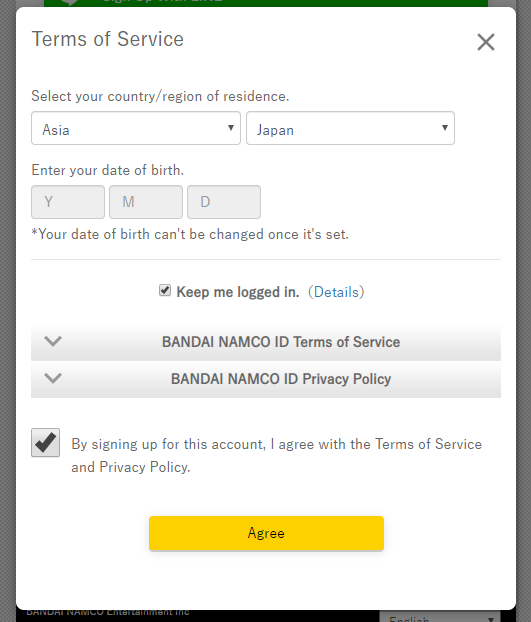 You're going to want to change whatever country and region is listed initially to both "Asia" and "Japan" respectively. This is important! After that, you're going to want to fill out your date of birth, read the terms of service and privacy policy if you feel the need to, and then check, and click the "Agree" button.
Step 5: Authenticate your account
After clicking "Agree," you're going to end up on another page stating that your registration is not yet complete. This is normal. You're going to receive an Authentication Code from Bandai Namco, normally instantly, but it can take several minutes depending on your email provider. After receiving the code, navigate on over to the Authentication page and paste the code into the "Authentication Code" field. After which, you're going to proceed to click the "Authenticate" button.
And that's all there is to it. After that, you'll have successfully completed the registration process.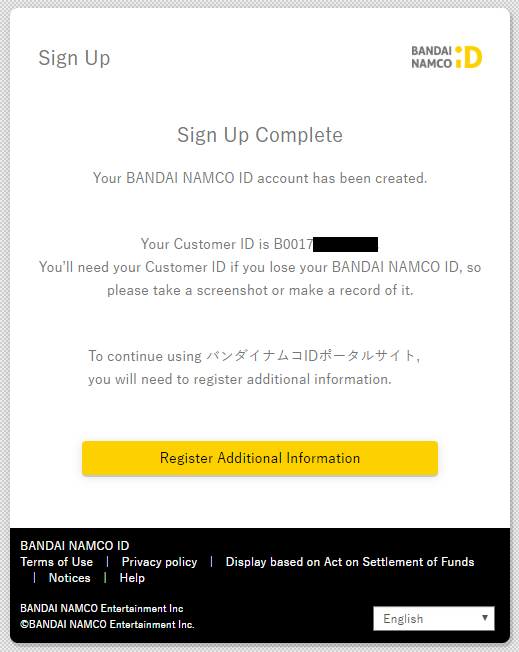 However, there are additional steps you can take to further fill-in information if you'd like to go about completing those. Honestly, I don't believe it's required to do considering you get a confirmation that your account was successfully registered, but the choice is up to you!
Register for the Blue Protocol Closed Beta
Step 1: Visit the Blue Protocol Closed Beta registration website
Step 2: Agree to the Closed Beta Terms and Conditions

Click the check box to agree to the Closed Beta Terms and Conditions, then click the left-most button to log in to the Blue Protocol website using your Bandai Namco ID.
Step 3: Log in with your Bandai Namco login credentials.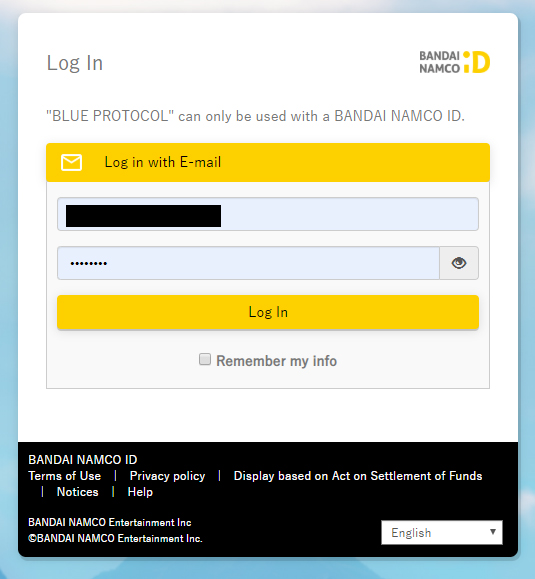 Log in to your Bandai Namco account using the credentials you signed up with above, then hit "Log in."
Step 4: Agree to the Terms of Service and Privacy Policy.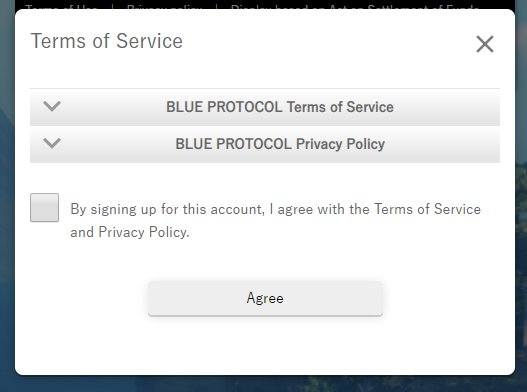 Next, agree to the Terms of Service and Privacy Policy, then click "Agree"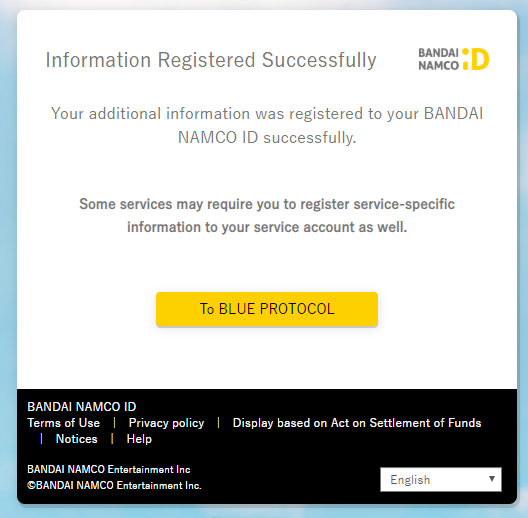 And that's it. After completing the above steps, you'll be done. You'll be successfully entered into the Blue Protocol Closed Beta test. All you have do to now is wait for an email with further instructions if you get in.