Digimon Super Rumble Open Beta Pre-Registration
Digimon Super Rumble is finally, after months of waiting, entering a fully playable state. Pre-registration for Digimon Super Rumble's Open Beta test phase is currently open, and I have exactly what you need to pre-register in anticipation of playing!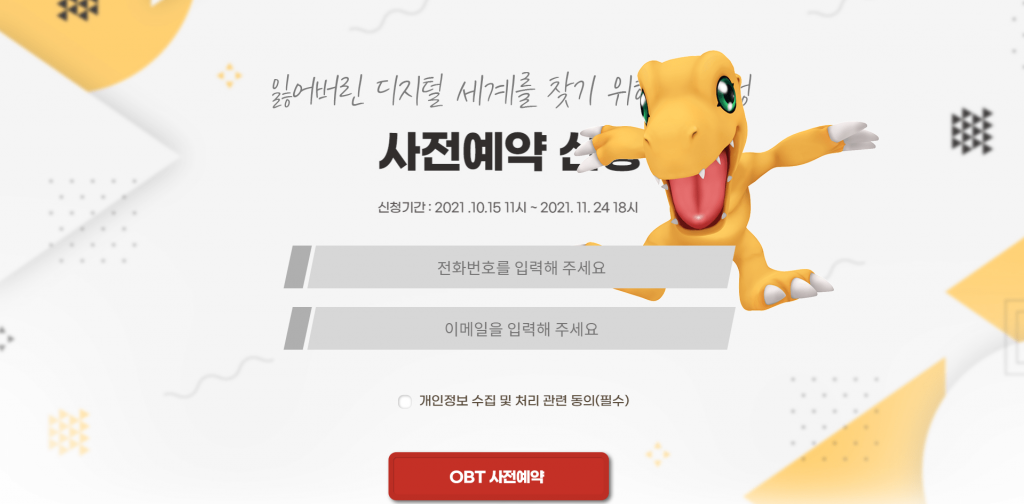 That's right, pre-registering for the Open Beta is fast and simple.
All you're required to do is enter your phone number and email address. The game will NOT be IP restricted, meaning you'll be able to access the game outside of its country of origin in South Korea.
If you're having difficulty using your own phone number to pre-register (some people seem to be experiencing this issue,) I'd advise you use a free service like SMS Online. It's helped people get into games like Blade & Soul 2 and other Korean titles in the past, and I would think it would work for this as well.
Make sure you click the pre-registration button above, and then you'll be all set to jump right in! Remember, the pre-registration will only be available until November 24th, 2021. There are in-game rewards for players that participate in this event, the "First Costume Set" and "Fairy Wing" respectively.