Digimon Super Rumble Enters FULL Open Beta Test
I love Digimon. The first Digimon World and the constant struggle to get your companion to a potty so it doesn't turn into a Sukamon or Numemon. The original Digimon Adventure TV series featuring Tai and Matt… man, that's some of my childhood right there.
I've covered this a couple times over the course of the year – honestly, I feel like I'm the ONLY MMOTuber to even be actively aware this game is in the process of development.
But, the reason we're here today is because… well, pre-registration for the new Digimon MMORPG, "Digimon Super Rumble" is currently open and available. For their upcoming Open Beta test phase! Yes, no Closed Beta. A full Open Beta, meaning everyone can get right into the game and play it without restriction.
Do note that the pre-registration will only be available until November 24th, 2021. There are in-game rewards for players that participate in this event, the "First Costume Set" and "Fairy Wing" respectively.
Both of which seem to be cosmetic items, which confirms there will be outfits present within the game, either earnable in-game or via the cash shop. It's worth noting that these cosmetic outfits are only going to be given to the first 2,000 players – so they are in fact very limited.
There will also be a social media campaign going on with rewards including iPads, Apple watches and.. a surplus of other items for players that participate.
So what do we know about the new Digimon MMO thus far? Well, other than the fact that it's almost ready to release, its actual name is Digimon Super Rumble.
This is a Korean title being developed by Move Games, and is being developed using Unreal Engine 4 – an engine that MMOs and their respective developers seem to be prioritizing when it comes to MMOs these days. Except Bluehole. They made Elyon using Unreal Engine 3.. for whatever reason. Which totally escapes me.
I understand why. Unreal Engine 4 makes a lot of things possible. Graphically, mechanically.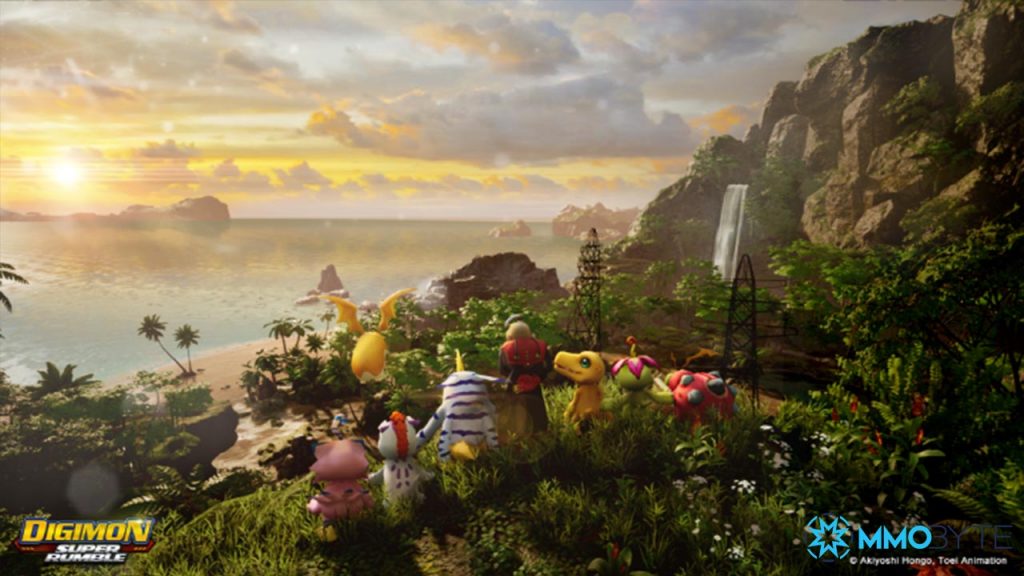 Move Games are the very same developers behind Digimon Battle, and the currently available Digimon MMO "Digimon Masters Online." I know some of you have mixed feelings when discussing Digimon Masters, but you can't argue the fact that at its core.. it's an actual Digimon MMORPG.
A full-fledged Digimon MMORPG. That's something we can't say about Pokemon. Or DBZ. Or Yu-gi-oh! So while it might be.. let's go ahead and say "less than stellar," it's still a functional Digimon MMO, and Super Rumble is expected to be a faithful adaptation of the "Digimon Adventure" story.
Yup, the game is going to be based around the material from the Anime, featuring Tai, Matt, TK, Sora, Joe and Mimi. Along with their corresponding Digimon partners like Agumon, Gabumon and Patamon. Oh and.. Kari and Angewomon.

While the narrative will center around the "Adventure" story, Move Games did confirm that they have every intention of taking the game in its own direction.
They'll have aspects of the Anime present, but this will, for all intents and purposes, be its own, fully functional standalone title. Sure, you'll encounter characters found within the Anime. You'll see areas, locales that were present within the Anime as well.
But there will be entirely new areas developed specifically for this game, and you'll come across a slew of characters built for Super Rumble alone.
In their words, "Not only will it provide players with a sense of nostalgia, but it will also keep things fresh."
Interestingly enough, Digimon Super Rumble utilizes a turn-based combat system. Digimon Masters utilized a tab-target combat system, something that was rather prevalent throughout MMOs in the early 2000s to late 2010s, but given the drastic shift in terms of what players enjoy in terms of gameplay, it's unusual to not take advantage of that.
Not that this combat looks bad, it's an interesting combat style, honestly. And unique gameplay mechanics are what will ultimately keep players interested in the long-term. We don't have any need for the same content with a different wrapping.
It's also unusual that they have no plans of sunsetting Digimon Masters. Meaning that they'll end up having more than 1 Digimon MMO online at a given time. Being direct competition for.. well, itself.
In what world would you want your main competitor to be.. yourself? You're essentially forcing your players to choose between your own two games, as they're the only competition for one another.
And that's it. Digimon Super Rumble will be fully playable later in November. Only several weeks out.
This is going to be free to play, so you won't be required to pay a fee to play it.
And finally… this very well may be the Digimon MMO we've been waiting for ever since we tried and didn't really vibe with Digimon Masters.
Hopefully you all successfully pre-register for the Beta test, and hopefully I see you guys in-game soon!
Digimon Super Rumble is finally, after months of waiting, entering a fully playable state. Pre-registration for Digimon Super Rumble's Open Beta test phase is currently open, and I have exactly what you need to pre-register in anticipation of playing!