Will Noah's Heart be Competition for Genshin Impact?
I know what you guys are thinking: This looks JUST like Genshin Impact. And, yeah, you know what? It actually does.
It looks eerily reminiscent of Genshin Impact, but that doesn't make the game inherently bad – a lot of people compare the upcoming Tower of Fantasy MMO to Genshin Impact as well.
And whether you like Genshin or not, there's no denying the effect it's had on the industry. More and more developers are using Genshin as a benchmark and developing games with that audience in mind.
But we're not here to talk about Genshin Impact. We're here to talk about Noah's Heart. How many of you remember Dragon Raja? I did a video on it back in.. 2019 I think.
Well, Noah's Heart is being developed by the very same people. And before you click out of the video – let's take a minute here and watch the trailer for the game.
Now this is an MMO that has been brought to my attention on various occasions. I continue to get DMs to this day inquiring as to why I've not covered it in a dedicated video.
Noah's Heart, if you weren't already aware, is currently accepting pre-registration for their upcoming test phase. Little is known about the requirements right now, other than the fact that it's currently open.
The test phase was supposed to take place last week but judging by the chatter I've seen around the internet, it looks as though it has been delayed.
So if you're looking to get into the game, now's your chance to sign up.
The Taptap website gives us a little bit of information pertaining to the type of game Noah's Heart is going to be.
"Noah's Heart is an anthropomorphic planet large world exploration handheld game developed by Zulong Entertainment.
With the powerful performance and expressiveness of Unreal 4 engine, the game not only creates a unique seamless spherical continuous large map, but also breaks through the traditional MMORPG career restrictions and develops a more open and free gameplay system.
In addition, the game has next-generation graphics comparable to end-game and a high degree of freedom of the open world, with day and night rotation and weather change system to create a more realistic planet biological ecology, will bring players a more immersive exploration experience."
At least, that's what the North American synopsis says. The Chinese synopsis is actually a little different.
The Chinese version has additional text added on, stating that the game is "distributed by Tencent Games," whereas the North American version has no publisher as of June 2021.
I'm aware that this might be a turnoff to some people. Tencent Games isn't really known for developing, nor publishing quality titles. Nevertheless, this MMO is developed by Zulong Entertainment, and will likely have a completely separate publisher once it launches within North America and Europe.
And yes, there is a 100% confirmed English release of the game, as not only do we have an offiical English page, but we have an English Facebook page as well.
Granted, we don't have any type of ETA on when the game will be releasing – either in the West or the East.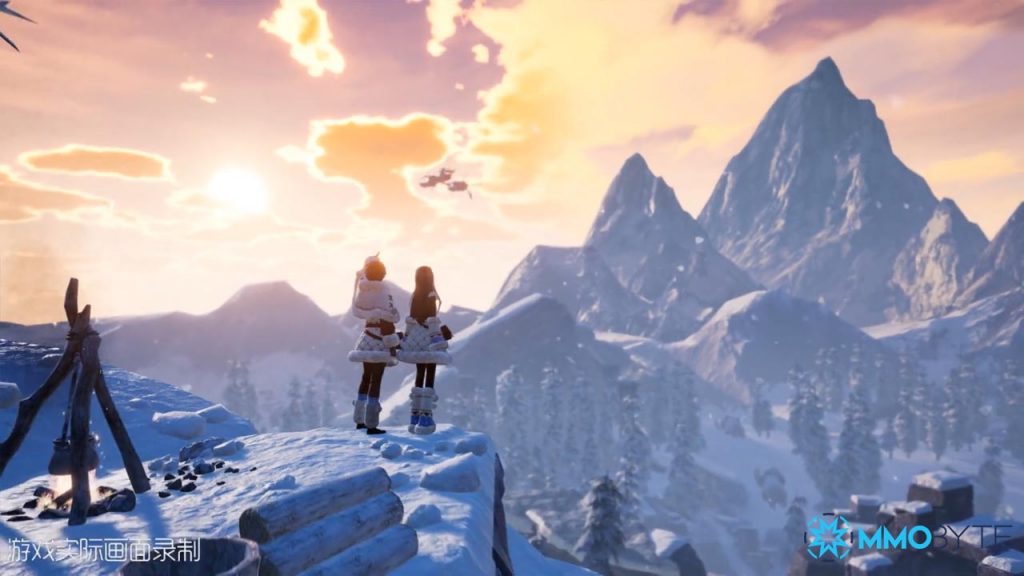 One thing that Zulong plan on introducing into the game – a feature that will truly help set this game apart from its competition is a 100% procedurally generated world. You might not be familiar with this, but in essence, the entire world is going to be generated at random.
You've likely seen this done in dungeons at one point or another, but I'm uncertain how this is going to really effect the world given that they're claiming this will be "completely open-world." No loading screens whatsoever.
But my question then remains.. how are they going to go about procedurally generating it? Will it be regenerated regularly, or will it be a one-time thing? How large will the world be? Will the world change depending on who is in it?
Will every player have their own rendition of the world that is specific only to them? There are more questions than we have answers to right now, and that's a little disconcerting. I don't like having this many questions, especially when I'm unsure of whether I should even be excited for the game or not.
They plan on having a variety of different methods of transportation for players. You can traverse the world on foot, you can ride various types of mounts, you can sail the air via Airship.
Airship travel functions much like the Airship travel in WoW for those of you that have played it and experienced that. It's been confirmed that players will be able to form relationships with various different NPCs around the world.
Yes, for those of us that are unable to converse with people IRL, we'll be able to in-game. I feel like developers are actually doing this on purpose now. They know their target demographic, don't they?
So I'm unsure of whether or not I should be excited for this. I've played my fair share of mobile games, and the vast majority of them have sucked. I've played a few good ones like Guardian Tales, and yes, to an extent, even Genshin Impact and Honkai Impact, so this releasing on Mobile first doesn't make this a bad game.
It's the developers, and consequently the publishers that will ultimately decide whether this is a good or bad game.
As of June 2021, this is confirmed to be releasing on the same platform as Dragon Raja: Mobile, but that doesn't rule out other platforms in the future.
Test Phase Pre-Registration
Pre-registering for the latest test phase is easy. Simply navigate on over to the Taptap website via the button below.
Simply click which of the two devices you want to pre-register for. Either iOS or Android.

After you've selected your device, you'll be pre-registered! Simply keep an eye on things for when they announce participants have been chosen.