Tower of Fantasy Confirm GLOBAL and CONSOLE Release
"It's coming globally!"
"No it's not!"
"Yes it is!"
"No it isn't!"
That.. has been Tower of Fantasy for the last year. And we can finally say, with 100% unquestionable certainty, that not only is Tower of Fantasy coming out Globally, but it's also coming to consoles as well.
And I'm going to show you undeniable proof of that.
Today, I want to discuss Tower of Fantasy. Because it's finally confirmed to be coming to every major platform – and we're going to be capable of playing it. You and me. Regardless of where we both live.
Before we delve any deeper, though, I do need to preface this by stating that as of a couple days ago, Tower of Fantasy has gotten 2 separate Twitter accounts verified.
The first is the "Tower of Fantasy English Official" – that is in charge of relaying information pertaining to the English release of the game, and "Tower of Fantasy JP," the Japanese Twitter account for the game.
Which, admittedly, has several times more followers. I'm not sure why that is. Nobody knows about the English version, maybe?
Let's discuss the console confirmation first.
The Japanese Tower of Fantasy Twitter made a Tweet on February 22nd. It was a basic Tweet with absolutely no information.
A user named "Cardi" went on to ask a question on that Tweet, "Do you have any plans for console release? (Ps4 / ps5 / xbox)" I would've assumed the Tweet would simply be ignored. It makes sense to – especially if they have no plans of releasing onto console. Something that they had never even expressed an interest in doing.
They responded to this, though, in a way that nobody anticipated: "It will be played on smartphones & PCs, but the console is under development! We will let you know if there is any progress."
Yup, and as simply as that, the Japanese Tower of Fantasy Twitter account – which again, is now verified, confirmed that they are currently developing a console version of the upcoming MMO. I never anticipated this.
I don't think anyone really did. After their setbacks earlier this year, I don't think anyone foresaw a reality where console players would be capable of playing alongside us PC or mobile players, but here we are.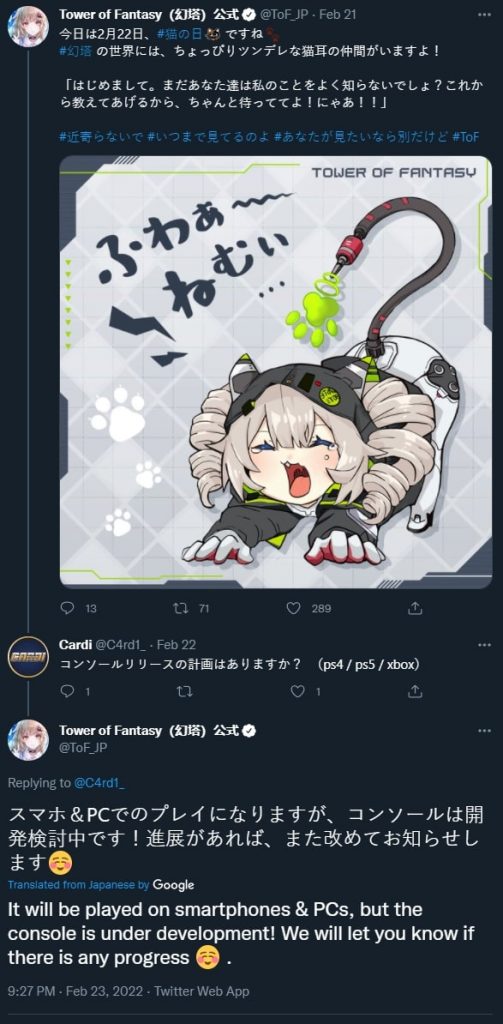 Concerning the Global release, last month the English Tower of Fantasy Twitter page made a Tweet that reads: "We would like to let everyone know that the international version of ToF is in the works!"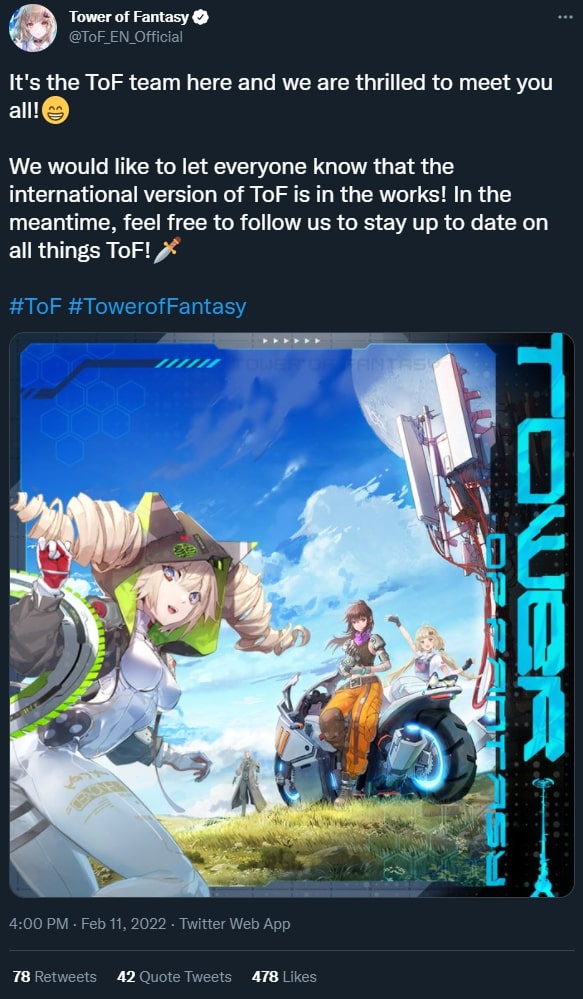 They further elaborated on this when replying to a comment by Christopher: "Happy to see you excited as we have been waiting to share this with our amazing ToF fans!"
It seems as though they've had a Global release planned for a while now, and even despite their comment earlier this year concerning their lack of interest in the international market, at least until they had a fully functional, well received product, it seems as though they've had a change of mind.
Which only means good things for us.
I've been hyping this game ever since it was first announced – both Cryy and I were the 2 first people to cover and express our excitement for it.
Now we have a direct confirmation that not only is the game releasing onto PC and mobile devices, but it's also releasing on console as well? And given both the PC and mobile platforms have their own respective UIs, it's no stretch of the imagination to expect the console version to have its own UI as well.
Tower of Fantasy and Hotta – the developers – have crafted a high quality experience for every platform, despite their shortcomings elsewhere.
And the fact that we're finally getting a 100% confirmed English release to accompany the console release? Is it possible to receive TOO MUCH positive confirmation? Because I fear this has to be accompanied by something negative to restore balance, right?
Are we gonna get a terrible publisher? Is it launching Globally in 2027?
Fortunately, it seems as though Perfect World, the company behind Hotta Studios, will likely be publishing the game over in the West. Thankfully they have a lot of experience with MMOs so it shouldn't realistically be too bad. Maybe pay-to-win.
As for the full Global release date? That's also unconfirmed. They noted "soon." However, "soon" is incredibly vague. "Soon" could be the 2nd quarter of 2022. "Soon" could be 2023.
Honestly I wouldn't expect it to be too far off given they've likely been working on this for a while now.
I do hope to get a chance to Beta test it ahead of its English release, though, because it's definitely going to need one.