Rusty Hearts is Coming Back as Rusty Hearts: Revolution Reborn
I'll admit, I never played Rusty Hearts. I made this channel at the end of 2016 and by then, Perfect World Entertainment had long since closed the game down. So it wasn't even on my radar.
However from time to time I hear mention of the game – hear whispers of how glorious it was, how perfected it was, how absolutely groundbreaking it was for the genre.
And I stop, take a moment, and wish I'd had the opportunity to fully experience this game in all its glory.
Well, as of writing this, it seems as though that wish may have been granted, as Rusty Hearts is being revived.. again.
See, the game was shut down back in 2014 for.. well, Perfect World Entertainment shut down games whenever they're no longer as profitable as they'd like.
Whether or not that was the case is up for discussion, but the fact remains that it was closed.
Not too long after, several incarnations of the game popped up outta nowhere – private servers that promised to provide solace to players that were longing for a new home.
Over time these private servers died off and shut down – again, for reasons unknown.
Fast forward to October 1st, the Facebook page for Rusty Hearts: Revolution have announced that they're relaunching their private server titled Rusty Hearts: Revolution Reborn.
They claim that the games open beta will be rolling out during Fall 2019 – realistically.. without an exact date, that isn't helpful in the least.
But hey, with only 2 months left of 2019, we're looking to at least get a functional form of the game ready to play.

They also went on to post a Q&A detailing a little about the upcoming release. Allow me to go over that for all of you.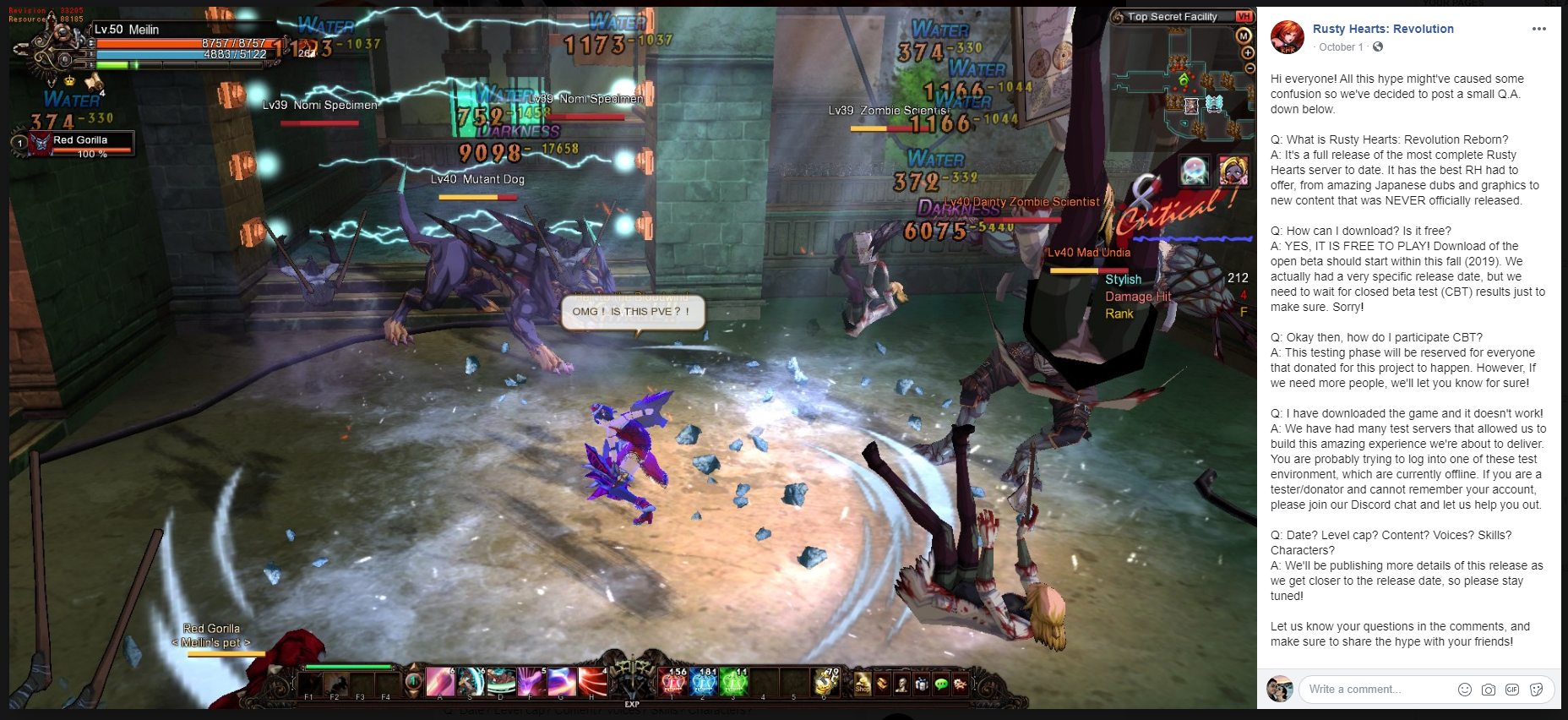 So from the Q&A supplied, it looks as though the game will feature content that no server has seen before.
Not only that, but it will also feature the official Japanese dub of the game, which I'm sure a lot of you can appreciate.
However, it looks as though the testing periods of the game will only be available to players that have donated towards the project.
What this means is that if you want to play the game ahead of the open beta, you're going to need to pay to get in.
I understand why they chose this monetization method with regards to the beta tests – honestly, they want to make as much money as they possibly can.
But I don't like having to pay real money to get in to a private server of a game.. that just seems silly to me.
Nevertheless, the game will be playable for free players likely at the end of the year, so if donating is an issue.. all we need to do is merely wait.
And that's pretty much it.
Not much in the way of information other than what was provided in the Q&A has been revealed.
Yes, Rusty Hearts – the official version of the game published by Perfect World Entertainment is gone, forever.
Yes, Rusty Hearts: Revolution Reborn is a private server of the game.
Playing on the private server comes with its own risks, such as abrupt closure or worse, but that's the best we'll get.