Project TL Confirmed for "2nd Half of 2022" Global Release
I'm pretty hard on developers and publishers. There's no denying that. But that's because I feel as though they should treat us as players – as consumers, with more respect than we get. As opposed to the wallets and purses they see us as. Especially Eastern companies.
But I'll give them this one. Finally, after years of waiting.. we have it. It's here.
Although, as excited as I am, and as excited as I'm sure you're all going to be.. I'm not even sure what to call this one. On the one hand, this game has been advertised as "Project TL" for years.
Then out of nowhere, NCSoft revealed that they were altering the name of the game to "TL: Origin," which stood for "The Lineage: Origin." Now, as of the last couple weeks, it looks as though the game is being listed online as "TL: Throne and Liberty?" As in, "The Lineage: Throne and Liberty."
Again, absolutely no idea what to even title this as. It's gone through so many rebrands that it's almost unrecognizable.
We've all been eagerly anticipating Project TL. The one, single trailer we received for the game was gorgeous. But since then.. NCSoft have been silent. Many people thought they'd given up on the game.. but they were wrong.
NCSoft just released their third quarter 2021 financials last week, and while there was a noticeable decline in a lot of different areas, they went on to discuss various different titles – recently released and upcoming.
Lineage M has seen an increase of 12%, Lineage 2M has declined by 28%, Blade & Soul 2 has seriously underperformed – which is a total shocker. I wonder why. Their 5 PC games were down 4%.
Although according to the CFO of NCSoft, Lineage W has seen some of the highest numbers the company has ever had, which is promising for them. Reinforcing their need to release this in both "the US and Europe next year."
And this is where things begin to get interesting. Once more, the CFO of NCSoft went on to confirm that "Project TL," yes, they went and listed this as "Project TL" once more as opposed to any of the aforementioned names, is aiming to release "simultaneously in the global market."
This means within Korea, within Japan, Russia, North America, Europe. There are no known restrictions in place with regards to the blocking of the game, something that Korea very rarely does with their releases.
The CFO, who we're just gonna call "Hong" here as that's his name and I'm sick of saying "the CFO," went on to state that "It is well known that NC's main focus is MMORPG, but we are trying to develop various genres and IPs to expand our global customer base."
This means that NCSoft are actively looking to grow beyond what has worked for them up until this point: PC MMORPGs and Mobile ports.. of the same MMORPG repeatedly with additional letters added to them.
"I will clearly show the blueprint to the market by informing the global market expansion and platform diversification strategy in detail." And according to those words.. he has every intention of utilizing the global market to achieve his goals of expansion.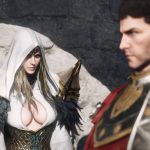 Hong then went on to confirm that they have finished preparation of their new NFT and Blockchain technology. "I believe that the combination of NFT and blockchain will give NC a great opportunity, and I am preparing."
I bet you're all overjoyed to hear the direction they're going to be taking the company. Not that any of us really even had any hopes for it either way.
Moving back to Project TL, Hong went on to confirm that "NC's user expansion strategy will be focused on simultaneous launch in the global market.
"Not only MMORPG, but also various genres and IP development are spurred. In the first quarter of next year, NC plans to unveil its new lineup through a showcase. We are also considering releasing an in-game video.
In this showcase, you will feel NC's global market and platform diversification strategy. 'Project TL' will be released based on PC-console.
NC will expand its business with two goals: a multi-platform covering mobile-PC-console and global market expansion."
When asked about the release schedule for Project TL, according to Hong, they have reached a stage where they are merely preparing for release. The game is done. It's entirely complete. We haven't seen any test phases, but according to the CFO himself – it's done.
They are expecting the game to release in the second half of 2022. Which is… shocking. After years of silence, a complete lack of connection with their players, their community, NCSoft have a complete version of the game ready to release in the next half a year. Who'd have thought.
So if you were waiting on Project TL, or TL: Origin, or even TL: Throne and Liberty.. you won't have too much longer to wait.
NCSoft confirmed the game, which still doesn't have a set-in-stone definitive title, is releasing sometime in the second half of next year. And it's releasing everywhere globally.
That's pretty sick news. Now if only NCSoft were actually a good company, we could get REALLY excited for the game.