Project BBQ Confirmed for 2020 Release
You know what's in the Nexon pipeline for 2020? Yup, if the title didn't give it away, Nexon have confirmed via their 4th Quarter 2019 financial report that among other titles, Project BBQ would be making its way to South Korea.
After what seems like years since their announcement, Nexon are finally following through with a release of some form.
I know, I know. "South Korea, Stix? Really?" Shhh. You guys knew this was coming to South Korea before anywhere else – but that's alright, most South Korean MMOs end up with fan-translation projects.
Nexon's list of 2020 games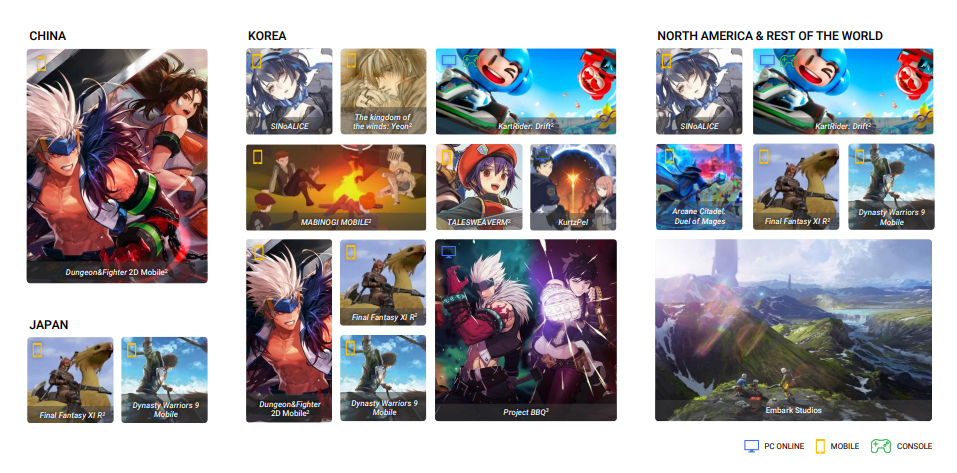 I'm honestly surprised that even though Dungeon Fighter Online is one of Nexon's most successful gaming IPs it's taken them this long to roll out the sequel.
Which yes, if you weren't already aware, then Project BBQ is not only set in the same world as Dungeon Fighter, but it's also connected to the game sharing characters, locations and story.
I know a lot of you are unaware of what specifically Project BBQ is, so let me give you a little rundown. Project BBQ is a fully 3D rendered Anime MMORPG.
Or, at the very least Nexon claims that the game is an MMORPG. While all we've seen up until this point seem like rather linear environments, Nexon assured people that it was a full-fledged MMORPG.
The devs behind it? Neople, the very same group that brought us the original Dungeon Fighter Online MMO.
It was revealed that even though Dungeon Fighter is a hub-based MMO, Project BBQ will feature instead "a large, seamless world" filled with "large, open-world maps and instanced dungeons," much like any traditional MMORPG.
Which with the influx of instanced, hub-based MMOs like Soul Worker, Closers and the like, is promising to hear. Even though Nexon are notorious for not only cancelling their games, but making drastic changes.
Project BBQ is being built on Unreal Engine 4 and will be a PC exclusive. This is very similar to its main competitor: Blue Protocol, which is also being built in much the same way.
One thing South Korean MMOs seem to know how to get correctly is the combat, and from what little we've seen thus far, it features some pretty damn good looking action combat.
We only saw a few classes in the trailer, however it was revealed that there would be approximately 8 different classes to choose from – and if it's anything like its predecessor, classes will all have their own unique, intricate playstyles, strengths and weaknesses.
It's unconfirmed right now whether or not the class system will be similar to Dungeon Fighter, with Dungeon Fighter having 16 unique classes, all with their own sub-classes.
However, if Project BBQ functions the same way as its predecessor, classes will end up gender locked. Yes, gender locking in a South Korean MMO. How shocking, right?
I guess realistically all we can do is hope that, contrary to popular belief, Nexon and Neople actually know the market and what it wants out of a game. What am I saying? This is Nexon we're talking about!
While Project BBQ is slated for release in 2020, it's currently unconfirmed what form that release will take. They never clarified whether or not the game will release into Alpha or Beta testing this year, with the full release coming in 2021 or 2022.
Just that the game will be live in some capacity in 2020. This is definitely disconcerting news for a lot of us – especially those of us that know exactly how long South Korean games end up delayed.
However, Nexon did state that the lengthy delay up until this point is more or less the result of focusing on "making a great game" as opposed to "pursuing their own unique style."
While a great concept for a new game, it really is, this means that instead of trying to branch out and do something unique or innovative, they're instead opting to make something that's more or less the same as what's already out there.
But then at the same time, I'll take a "good game" over a "rushed game" or a "game that tries to be different but ends up sucking" even if that means the game ends up being generic. We have plenty of generic MMOs out currently that still pull in solid numbers.
So there we have it. Project BBQ is a fully action combat Anime MMORPG releasing in some form this year.
It has the potential to suffer delays, definitely, and who knows, considering Nexon's track record it very well might end up delayed or cancelled, at least currently we now have something to look forward to.
Granted it will only be releasing in South Korea whenever it does finally end up going live. Hopefully there's a fan-translation project for it considering it'll be years before we'll see it over here in the West.
But then again, all of this is purely speculative. They might announce the full game later this year and it might get an English release next year. Who knows!
Regardless, you know where to go to remain updated with info regarding Project BBQ.. yup, right here!
If anything changes, if there's any new info, you bet I'll be here to let you guys know all about it.