Ni no Kuni: Cross Worlds is Incentivizing Fake Reviews
I don't think you're ever going to be able to trust Netmarble again. Even though they have so many incredible looking games on the horizon.
Now, look. I've been playing Ni no Kuni: Cross Worlds for the last 4 hours. And I use the word "playing" very loosely, here. I've had the game loaded up, and 3 of the 4 hours have been spent in conversation windows, and the other hour has been spent auto-pathing and auto-engaging enemies in combat.
And I haven't even reached the NFT or Blockchain that everyone is telling me is present in the game, so I'm excited to get to that.
Yet even amongst all of the hate this game is getting – none of this is why I'm making this video. If the game is crap, then the game is crap. That's fine. There are plenty of crappy games out there, after all.
Why I'm talking about this today, is because Netmarble have been artificially inflating their ratings online, in an effort to create a false narrative that better fits their agenda. And it's astonishing to me that nobody else has covered this, other than.. well, me, on my other channel, where I call things out like this regularly.
So, what's going on? Ni no Kuni: Cross Worlds just launched. And on the day it did, one of the staff members on the official Discord, Feng, posted an official event:
"Rania's Notebook" – an event that began on the 25th of May, and was supposed to last until the 28th of May.
Participating would reward players with 3 Familiar Summon Coupons and an additional 10 Costume Summon Coupons. This is a pretty good deal, as this is a Gacha game and summons are important.
What struck me as incredibly suspect, however, were the instructions which explicitly required players abuse both Google and Apple's policies on incentivized reviews and installs.
To participate in the event, and subsequently obtain your rewards, all you had to do was simply download the game via either the Google Play Store or Apple App Store – not PC, mind you – and – in their very words, "Leave a positive review and star rating filled with excitement for Ni no Kuni: Cross Worlds in the market."
Netmarble was running an event that encouraged players to leave positive, fake reviews on their game in an active effort to paint this false image that players are enjoying themselves within it.
And they required proof – players were required to take a screenshot of their review and their star rating after leaving it. So if the review was negative – if they left a low star rating, their participation wouldn't be accepted. How petty is that?
After which, you would navigate on over to the "Rania's Notebook" channel under "Official Discord Events," and proceed to post the screenshot as proof.
One stipulation concerning successfully obtaining your rewards were that at least – a bare minimum of 10,000 screenshots were to be posted. If there were 9,000? Too bad. No rewards. At least 10,000 positive reviews were required to be left before they would hand out rewards. 10 whole thousand reviews.
There are 34,000 reviews as of writing this, meaning 25% of those reviews could be artificially boosting the rating to 4.2 – potentially significantly more.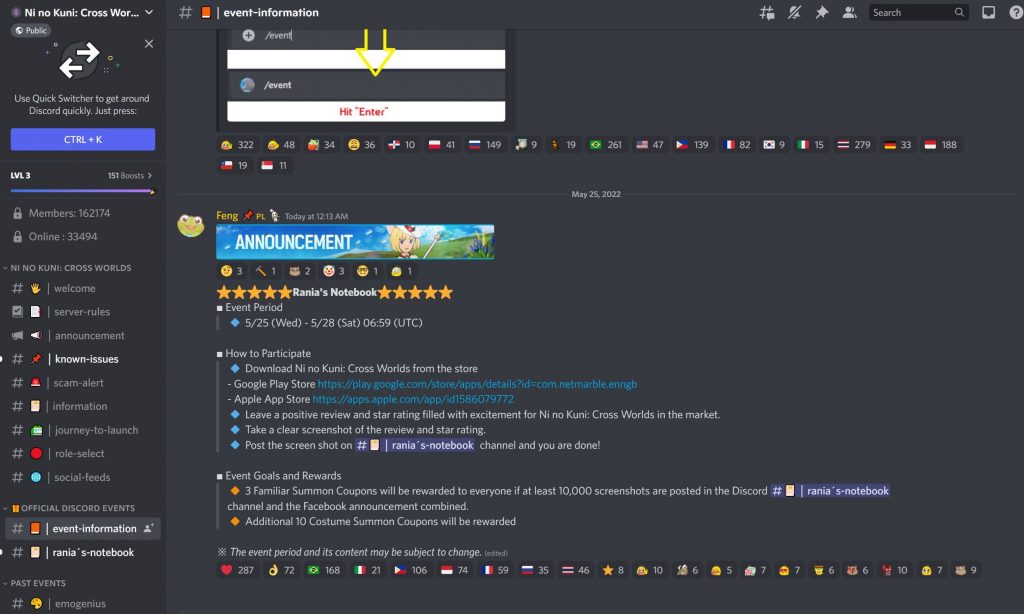 And this is where it gets interesting. Today, a couple hours after I posted the video to my Stix channel, the video was shared amongst its community.
Shortly after this, both the "Rania's Notebook," and "Event Information" channels, along with the entire "Official Discord Events" category were removed. All instances of this event have been wiped from their Discord channel, and are no longer accessible.
Seriously, you don't need to hide the fact that you're stooping this low, encouraging your players to manipulate reviews. It's out there, now. I've covered it – with this video, twice now.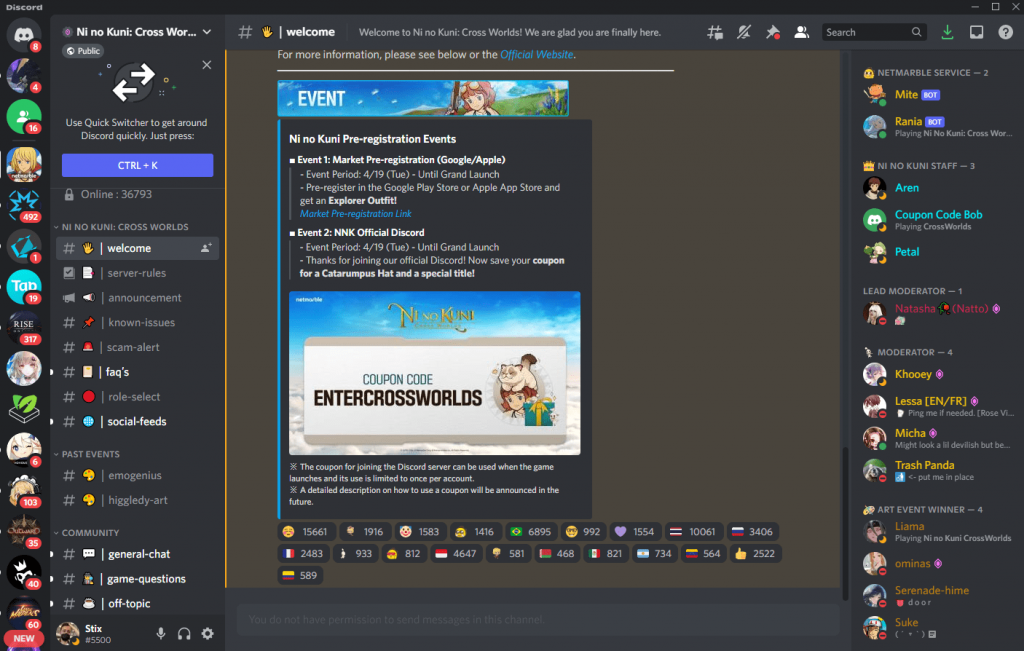 Sure, there are some players that were ecstatic that they had this unique opportunity to obtain rewards, but you don't need to trick your players into creating this false narrative for you.
If your game is good, players will review it positively. If your game is trash, then fake reviews aren't going to change that.
At the end of the day, I have to ask: Was it worth it? Did you see some type of radical return at the expense of having the Ni no Kuni intellectual property, and your very own name, Netmarble, dragged through the mud? Because I wouldn't believe it to be.
I think this was a bad move, and I believe you're scurrying around attempting to obscure your mistake from view. But the internet is forever, and unfortunately this is something that players won't soon forget.
If you have to resort to underhanded tactics like this, it's proof you have no faith in your game. And that's just disheartening to not only your community of players, but also to the staff employed at your studio.
Here's hoping Solo Leveling and The Seven Deadly Sins: Origins end up better than this abomination of a game. Because you ruined any chance it could've had.