Nexon Confirms Project BBQ, Dungeon Fighter Overkill, HIT2 and More
So there I was, doing my weekly roundup of news, seeing if there was something I wanted to cover. And I see it… as if being presented to me by some type of Angelic figure… news on one of the most anticipated Anime MMOs of the last decade: Blue-wait, no, wrong game: Project BBQ.
Yup, one of 3 highly anticipated Anime MMOs including Blue Protocol and Tower of Fantasy. Or, to be a little more accurate, we have news on various different Nexon titles, as part of Nexon's 3rd Quarter Financials.
Now let's start this off with the good news, first: Nexon, as part of their 3rd Quarter Financials confirmed several games were in the Pipeline for a release in the future – Dungeon Fighter Mobile, Project ER, Project Magnum, Project HP, Dungeon Fighter Duel, Dungeon Fighter Overkill, and Project BBQ.
We hadn't heard anything from Nexon pertaining to Project BBQ in almost 2 years now, with Nexon confirming that they were more interested in diverting their attention to Dungeon Fighter Overkill. Now don't get me wrong, Overkill looks incredible.
It looks like the next step for the Dungeon Fighter intellectual property. As a huge fan of Dungeon Fighter Online, I couldn't be happier, honestly, that Overkill is the direction the franchise is going.
However, many of you – myself included, were a little concerned that Overkill was going to severely inhibit the development of Project BBQ, which, admittedly, still does not have a full name.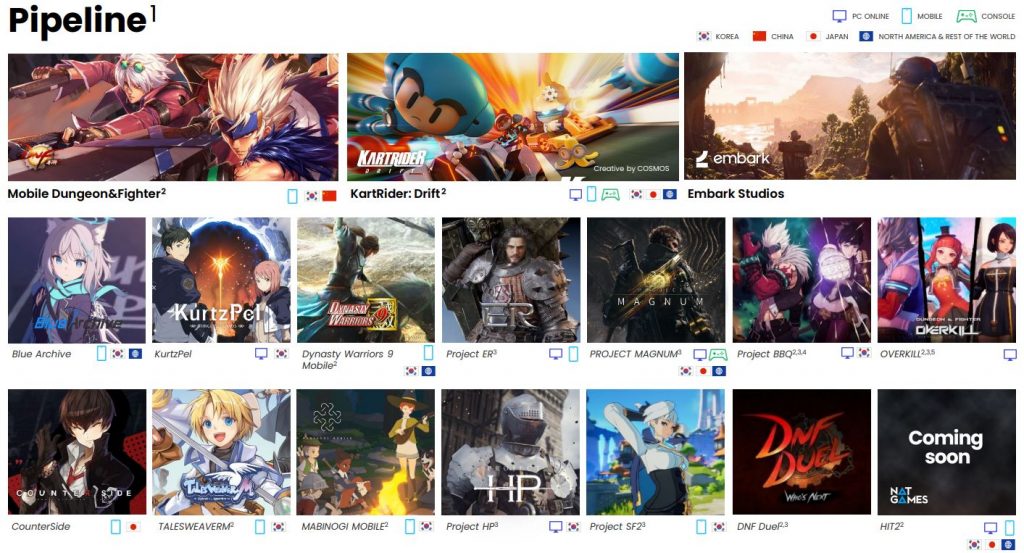 Now, Nexon's Pipeline of games scheduled have both platforms and regions listed. Platforms the game will release on to, and regions the games will release in.
Dungeon Fighter Mobile, Project Magnum, Project HP and Project SF2 are all scheduled to release within South Korea with no Global confirmation in the immediate future. The same looks to apply for Project BBQ. However, Project ER, Dungeon Fighter Duel and Overkill are all listed as having no region restriction.
This alludes to one of two possible outcomes: The former titles are all far enough through the development process that they are close to releasing, where the latter are not, or vice versa: The latter are close to releasing globally, and the former are not.
Worth noting in this report, is that Nexon revealed their new Embark Studio in Sweden is ready to announce 3 brand new projects, 2 new virtual worlds, and a new "creative platform."
All we know about the games thus far are they're titled "Codename: Pioneer," and "Codename: Discovery."
This is where things get interesting, though, as Nexon has been pushing out mobile games quite rapidly over the last several years.
Most gaming developers have been. However, according to the report, not only does North America and Europe make up a mere 6% of Nexon's total revenue, but PC games account for 75% of total revenue across all platforms.
That is absolutely insane, given how much money they've raked in this year. Does this mean Nexon's mobile games are just bad? Or that their PC games are just that much more appealing?
Maybe it means Nexon will instead place a larger focus upon their PC titles instead of tarnishing their reputation further with the trash they've put out on mobile in the last couple years.
Either way, over the course of the next year or two we're going to have quite the number of new games from Nexon.
Dungeon Fighter Mobile, Overkill, Duel, KartRider Drift, the new Embark Studios' games, Blue Archive, additions to the KurtzPel IP, Dynasty Warriors 9 Mobile, Project ER, Magnum, BBQ, HP, SF2, Counterside, TalesWeaverM, Mabinogi Mobile and HIT2.
They might take significantly longer to reach our shores, but they're coming nevertheless.
I hope.
Regardless, it's promising to know that they haven't forgotten about us with regards to Project BBQ. They're still working on it and I cannot wait to get my hands on it. And Dungeon Fighter Overkill.