Lost Ark Release Date? Global Confirmation!
So earlier this morning I was messaged on Discord regarding Lost Ark and a video done by a fellow Youtuber, Arekkz Gaming pertaining to the game's global launch. "Wait, what?" I thought to myself. The last we heard anything of Lost Ark was when they had announced it would be coming to the My.Games International Store sometime this year.
There was a lot of confusion as to whether the Russian version would be accessible globally, or if they secretly had plans of releasing a localized version of the game.
While it's still unconfirmed of their exact intentions, a Facebook post was made available to me today that went a ways to convince me that the global release of Lost Ark is definitely coming.
Matthew Benjamin Smith left the following comment via Facebook:

"some of those look really awesome! I'd love to be able to play the game as them, any chance lost Ark will have an Oceanic region?"
Interestingly, the official Lost Ark Facebook page responded with a confirmation none of us expected: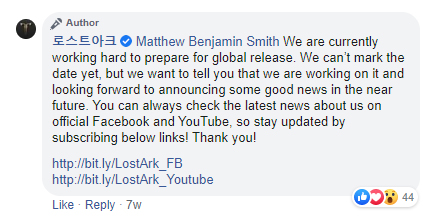 "We are currently working hard to prepare for global release. We can't mark the date yet, but we want to tell you that we are working on it and looking forward to announcing some good news in the near future. You can always check the latest news about us on official Facebook and YouTube, so stay updated by subscribing below links! Thank you!"
And it is with that one, single reply made 6 weeks ago that we have a 100% confirmation that Lost Ark is not only releasing globally, but they are also "working on it" and will, hopefully be announcing "some good news in the near future."
While "we're working on it" isn't really much to work with overall, and "we'll have good news in the near future" is also a little.. vague, it's all still fuel for the hype fire. It's reassuring knowing they're still hard at work making sure we'll eventually get the game.
Whether or not the game is still alive in South Korea when that time comes is another question all together, though.
I know, I know. You're wondering to yourself: "When is Lost Ark going to release in North America/Europe?" That's a question a lot of us have. The Lost Ark release date should be in 2021 at the earliest. I cannot see it coming any sooner than that.