Exposing Soul Reborn - An NFT Plagiarizing SoulWorker
Can you imagine how much effort has to go into stealing the intellectual property of another game, purchasing fake social media accounts, a fake Youtube account, and trying to sell your pathetic NFT bootleg as an original product?
Because that's what Soul Reborn is currently doing, and it's laughable. Like, I'm legitimately sitting here, as I write this, laughing to myself because of how ridiculous the entire situation is.
And the best part? The SoulWorker developers, Lion Games, publicly outed them, claiming they were going to take them to court over theft. Yeah, we're in for a wild ride today.
Upon first inspection, their website looks legitimate. Their Twitter page looks legitimate. 67,000 followers, though? That sure is a lot, right? Yet taking a look at their Tweets – 12 likes? 20 likes on their pinned Tweet? There's hardly any interaction going on whatsoever.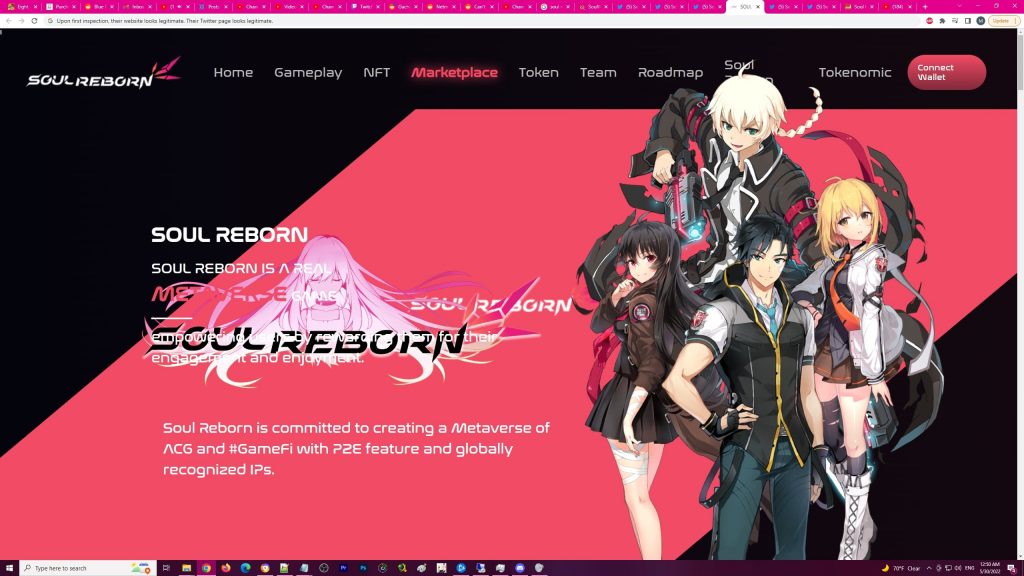 Taking a look at the official Twitter account for SoulWorker – not only do they possess a fraction of followers, but they average hundreds of likes per Tweet?
Digging a little deeper into the history of their Twitter page, 3 months ago they had 73,000 followers. Meaning they've since lost 6,000 followers over a 3 month period. Almost 3,000 of which have been lost in the last 30 days alone.
That's a whole lotta disinterested followers, right?
Soul Reborn bought this Twitter account. This was not a Twitter account that was organically grown. Not only is this shown by the thousands of users unfollowing monthly, but this Twitter account was created in April 2009. Yes, 2009.
SoulWorker was released in Japan in 2016. In Korea in 2017. In North America and Europe in 2020. The earliest incarnation of this game was from 2016 – so why, then, was there a SoulWorker NFT – Soul Reborn – Twitter account created back in 2009? There wasn't.
They purchased an already established account, changed the name, all of the info, and acted like they were a large, established entity to lull potential players into a false sense of security.
We're off to a good start, right? This is just surface-level. Upon simply looking at their Twitter account. It gets so much better.
Upon learning of the bootleg Soul Reborn game, the official English SoulWorker Twitter account made a Tweet stating:
"Unlicensed Illegal NFT related to Intellectual Property of SoulWorker "Soul Reborn" is the game that currently steals the Intellectual Property of SoulWorker without permission. Please DO NOT signing up/promoting the above mentioned site to prevent further damages.
Lion Games will take strong Legal Action and respond to those who take illegal advantage without mercy. Thank you."
One of the several official SoulWorker Twitter accounts responded to a Tweet made by Soul Reborn – a Tweet that is now unavailable.
In their response, they stated "From Lion Games Official Comment here. SoulWorker is an official product of Lion Games. All resources are illegally abused, and legal actions will be conducted regarding this unauthorized program."
To which Soul Reborn responded with: "Hello, we have purchased the IP of Soul worker through legal channels and signed the documents. If you have any other comments, please contact us through your lawyer, we will now sue you for defamation through legal means."
Yes, that legitimately happened. The official rights holders for SoulWorker reached out to an illegal copy of the game, stating that they were illegally using their assets and resources. To which the illegal copy of the game stated – once again – to the rights holders themselves, "nuh-uh. Now I'm suing you for defamation."
This is some schoolyard-quality defensive strategy.
ARMCHO, the official Art Director for Lion Games and SoulWorker even responded at this juncture, stating "From Lion Games Official Comment here. SoulWorker is an official product from Lion Games. All resources are illegally abused. What you are doing is swindle. And legal action will be conducted regarding this unauthorized program."
To which Soul Reborn continued with the same response given to the SoulWorker Twitter account, claiming they're suing the Art Director for defamation. At this juncture, they're throwing around the term "suing for defamation" as a baseless threat to attempt to silence criticism.
And evidently it did not work. Gamers aren't scared of threats they'll never be able to follow-up with.
In response to threats from Soul Reborn, the SoulWorker TC Twitter left a message stating "If your contract has been officially made, send us your documents to the email we have attached below," followed by an official Lion Games email.
"As being qualified for IP holder, we have not officially made any contracts concerning the program called Soul Reborn. Tell us who are involved with the legal channels and documents you are insisting with.
As being informed above, we are here to warn you to stop unauthorized advertisement. Any unauthorized abuses will be legally reported, and Lion Games will take solid action against all violations of our rights."
After receiving no response, SoulWorker TC made a public statement on Twitter: "Announcement on illegal NFT related to unauthorized use of SoulWorker IP.
Hello everyone, this is SoulWorker. At present, we have confirmed that some companies have stolen SoulWorker IP without authotization, conducted NFT business with Soul Reborn, and obtained illegitimate benefits. In order to prevent further losses, this notice is hereby notified.
Because the above game was developed without a formal contract or license, signed with Lion Games; therefore, please do not register, or promote the above website, in order to avoid related damages. Lion Games will take tough legal measures and countermeasures against illegal profiteers, please pay special attention."
Soul Reborn felt the need to make a public response to this in the form of a Tweet titled "Statement on SoulReborn IP licensing."
Thankfully, I screenshotted their article – which went on to state that this was their official statement in response to recent "inappropriate allegations and threats."
Where they go on to claim they are officially licensed by SoulWorker Korea to develop a mobile version of the game. Which, just FYI.. they never created.
Here's the kicker, though. After clicking the link they supplied in their Tweet, it leads to a 410 error page – which states "this account is under investigation or was found in violation of the Medium Rules."
Yes, under investigation or in violation of rules.
Ahhahahah.. dude, you cannot make this stuff up. These are some of the juiciest popcorn moments all condensed into a single video – you're welcome.
In a final, desperate attempt, Soul Reborn posted an image of an agreement – the first page of the agreement, anyway, that went on to show that Lion Games entered into an agreement with a mobile developer to develop a mobile SoulWorker game.
Of which there have been several made over the last couple years. Nowhere in that image, however, does it state anything about an NFT iteration of the game for PCs, which leads a lot of people to believe that it's fake. Like everything else.
Soul Reborn is a ridiculous attempt at plagiarizing an already existing, established intellectual property, and making a profit off of it.
SoulWorker and Lion Games have repeatedly fought this at every turn, alas, it seems like the Twitter account and website remain online.
Although from what we're capable of seeing – there's no longer any real activity present, so it seems like interest dried up relatively quickly.
Just think: If they actually created something original, they might've had something worthwhile to offer players. But this.. this is just unquestionably pathetic and laughable.