BLUE PROTOCOL 2023 GLOBAL RELEASE + CONSOLE CONFIRMATION?
Blue Protocol is the last bastion for Anime MMO lovers. There isn't a single Anime MMORPG in active development that looks even remotely promising. All we've gotten over the last couple years are poor-performing mobile and cross-platform games that really look and feel nothing like a dedicated PC title.
They lack the polish, the quality that only AAA-budget studios can bring. And while it's been over 3 years since its announcement, Blue Protocol has seen repeated delays, both nationally, and internationally.
We've all been high on copium.. hoping year after year they would tell us something – anything, to confirm even a relative time frame. A month – even a year that we can expect the game. That provides us something to look forward to. To build up excitement for.
And after today… we might have exactly that.
I was linked to an article on The Blue Protocol Database website that linked to an interview with Sekiguchi Masataka, the President and CEO of Bandai Namco, the studio behind Blue Protocol, Elden Ring, Tales of Arise, God Eater, Scarlet Nexus, Code Vein and so many more incredible games.
In the interview, Masataka went on state that the video games they have been focused on completing consisted of Gundam Evolution, and Blue Protocol. These were, in his words, "Online games from Japan, to the world."
For those of you unaware, Gundam Evolution launched around the world on September 21st. Yesterday, as of recording this video. Gundam Evolution was their primary focus, as it was the closest to successful completion and arguably the easier of the two titles to finalize development of.
Gundam Evolution launched to over 50,000 concurrent players on Steam alone, and is rolling out on PS4, PS5, XBox One, and the XBox Series X|S on November 30th.
Gundam Evolution launched Globally – around the world, with the exception of a few countries. It is going to be cross-platform compatible between PC and Consoles, and is 100% entirely free to play.
But what does that have to do with Blue Protocol? Masataka confirmed that both of the games listed – Gundam Evolution AND Blue Protocol are being developed in the same way.
In his words, "the basic strategy for realizing our goal of "online games from Japan to the world" is "worldwide," "multi-device," and "free to play."
This is the CEO himself claiming that he wants both Gundam Evolution and Blue Protocol, including future online games to not only be accessible "worldwide," but also be playable on more than a single platform, and be entirely free to play.
We knew they were targeting a worldwide release for Blue Protocol. Anyone that claimed otherwise was delusional. But what we didn't know – we merely speculated, was that they are also potentially wanting to release this cross-platform with consoles as well. Not mobile. Mobile is not even being considered, thank god.
He went on to continue, "On top of that, we have set key strategies as the pillars of our growth."
"The first is the creation of original IP.
We aim to create and nurture new original IP from online games that will serve as the starting point for the BANDAI NAMCO Group's IP strategy."
That makes sense. Blue Protocol is an entirely original IP. Gundam Evolution isn't, but it's highly likely that Blue Protocol isn't the final game in their vision. On the contrary, with them shifting focus to Blue Protocol they might start active development on several other projects.
"The second is the metaverse.
First of all, creating an interesting online game is a major premise, but on top of that, we aim to expand the online game space where many people gather to provide entertainment other than games."
I'm not entirely sure what they mean with this one. I hear metaverse and immediately throw up in my mouth a little. But I'm hoping it isn't something to do with Crypto or Blockchain. I don't think they're that stupid….. right? Right?
"The third is eSports.
We aim to expand the fan base, including players and streamers who have gathered around eSports, as well as non-players."
I don't think Blue Protocol is going to have an eSports scene since there is no PvP present within it. Which means this is either hinting at Gundam Evolution or a future new IP they have in the works that we're just not actively aware of yet.
"One of the reasons for the original slogan of "Bringing online games from Japan to the world" was that Japan itself was weak when it came to online games. I want people all over the world to play Japanese online games", that thought was our driving force."
Honestly, Japan doesn't have a great online scene, I completely agree. But they do have arguably the most popular MMORPG in the world: Final Fantasy XIV. Well.. unless you count Dungeon Fighter Online, which has millions of active players concurrently within China alone. Do we count that? Nah..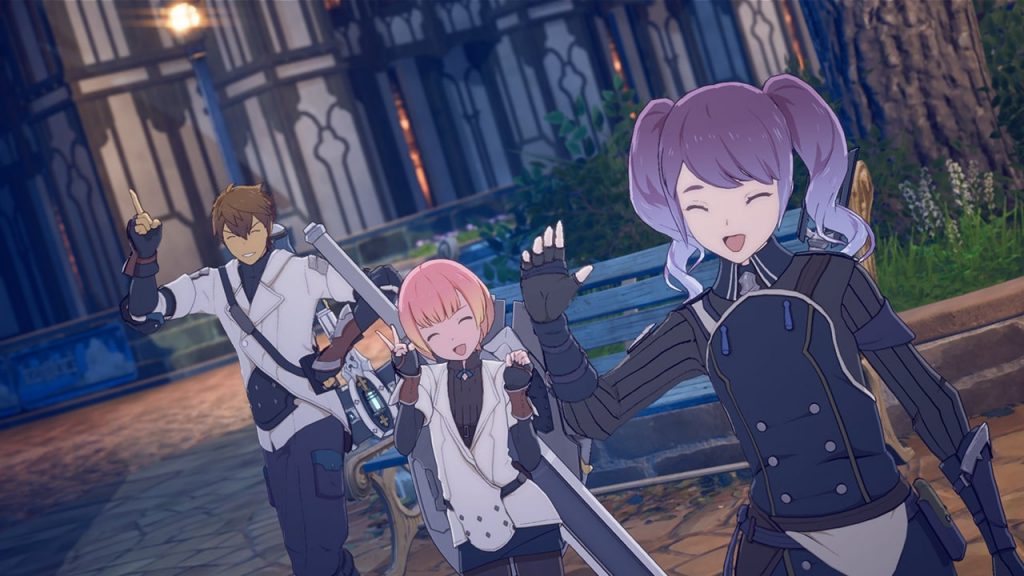 Masataka went on to cover a few other topics that were largely unrelated to Blue Protocol or their games, rather, touching on where Bandai Namco was moving in the future as a company, what new employees can expect as they're brought on to the team.
It was confirmed in a separate interview that Smilegate – the studio behind Lost Ark had secured distribution rights for Blue Protocol within Korea, including several other Asian countries like Taiwan.
But Globally? It looks as though Bandai Namco have the intention of publishing their game over in North America themselves. It's unconfirmed – but highly likely given they've been hiring overseas staff to work on localization, including a localization director.
Bandai Namco confirmed that 2022 would not be the year that Blue Protocol would be releasing. Instead, Gundam Evolution took priority. However, with Gundam Evolution fully launched, available resources are being put into finalizing Blue Protocol, with an expected release date "after 2022," likely at some point in 2023.
Remember, this is not 100% guaranteed, as the project has seen repeated delays up until this point. But it's news – good news that we've been waiting for. Probably the best news we've had pertaining to the game all year.
The best part of all this, though? Masataka doing the entire interview with Blue Protocol in the background. Yes, we're excited. Stop rubbing it in our faces man.