Aether Gazer Global has been confirmed!
I've been covering Aether Gazer ever since it was announced, what, a year or two ago? This is a game I've been eagerly anticipating as an avid fan of both Honkai Impact and Punishing Gray Raven.
And a mere 2 months after releasing within China – as of yesterday, it was confirmed to be releasing Globally. And more importantly, if you navigate on over to their website.. you'll notice there's a countdown, counting down 16 days, 20 hours. Is this before they open Pre-registration for their upcoming Closed Beta?
I guess we'll find out soon enough.
Let's start this off by addressing the new official English Twitter for the game. This was created back in May 2022, and had remained dormant until the 26th when they made a Tweet stating the following: "System Backtracking… exporting Files," with the hashtag "AetherGazer."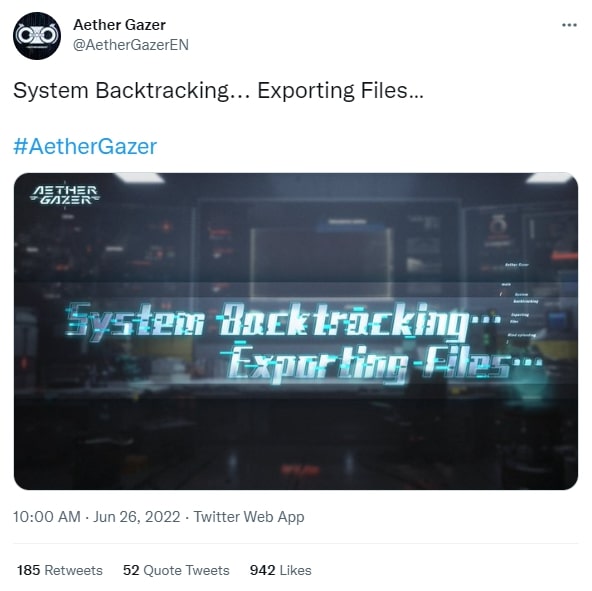 The next day on June 27th they made a second Tweet stating: "File: The Raging War, In the 22nd century, conflicts broke out one after another between regions. Soon after, conflicts became wars, and wars became more intense."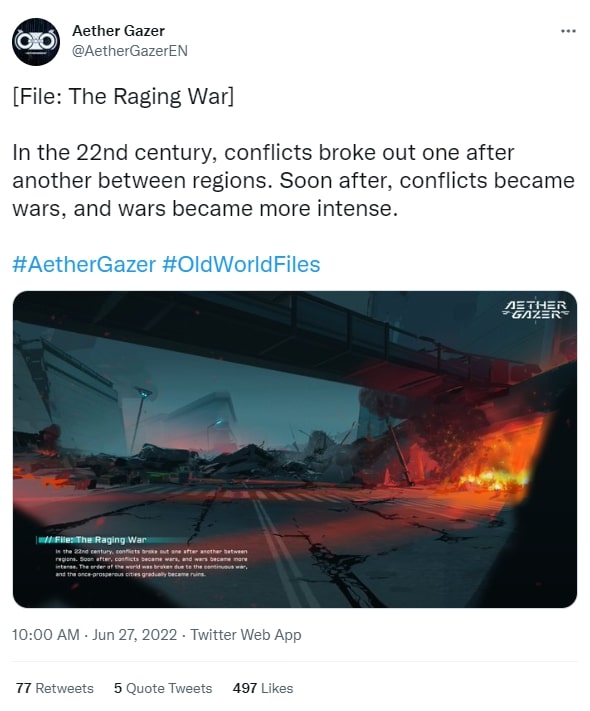 And then today, they Retweeted an article confirming that Yostar – These are the very same people behind the incredibly popular Azur Lane and Arknights games, would be publishing Aether Gazer Globally as well.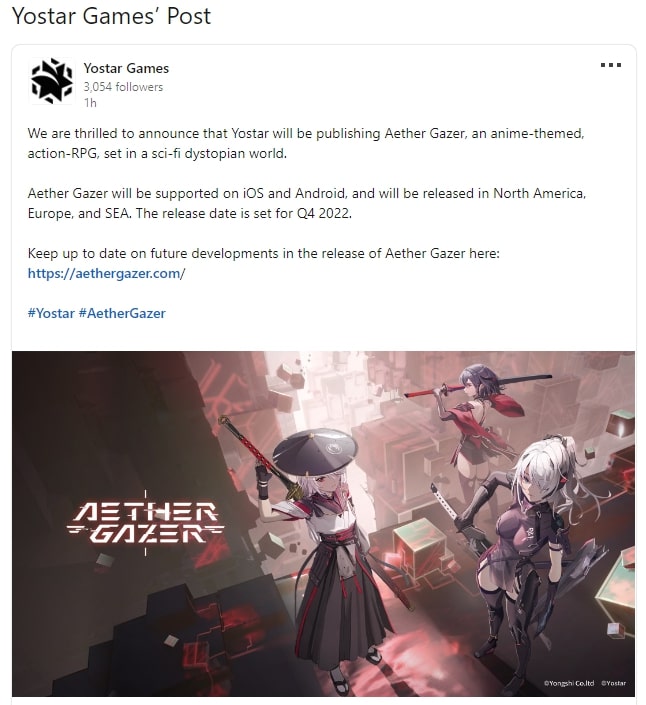 The article reads: "We are thrilled to announce that Yostar will be publishing Aether Gazer, an anime-themed, action-RPG, set in a sci-fi dystopian world. Aether Gazer will be supported on iOS and Android, and will be released in North America, Europe, and SEA. The release date is set for Q4 2022."
And I know your immediate reaction is "wait, mobile? ew." And you'd be well within your right to feel that way. So many mobile games are absolutely trash. But the games this is inspired by: Honkai Impact and Punishing Gray Raven are absolute gems that are adored by their communities. Myself included.
There have been several trailers released for the game up until this point, but they released a new trailer very recently, showcasing several new characters introduced into the game, including full gameplay and some cool gameplay mechanics. The video above showcases that trailer in detail.
And I mean let's be real: If you didn't think the footage in that trailer looked sick, you're probably just not into Anime games.
Aether Gazer Global Closed Beta
The developers have confirmed a Global Closed Beta will be held some time in the future, however at present, (as of June 30, 2022,) there is no confirmed scheduled Closed Beta date. The Aether Gazer Global Closed Beta is expected to go live at some point in 2022, we just don't have an definitive month as of yet.
Aether Gazer Global Release Date
The developers have confirmed Aether Gazer will be releasing Globally at some point in the near future. Their Twitter account confirms that. Aether Gazer Global's release date is expected some time within 2022. It's highly doubtful it would take until 2023 to release the game to the Western audience.