Guide: How to Download and Install BLADE & SOUL 2 in English in 2021!
I recently played through Blade & Soul 2 on stream. It was a much better looking MMO than I had anticipated it being, and admittedly I had some fun with it.
After posting my video on it, I had repeated questions pertaining to how I went about downloading and installing it. As this is.. actually a little more difficult to figure out on your own.
I spent 2 entire days messing around downloading different files, trying with different VPNs. It was torture, but I refused to give in. I wanted to see what this game was like.
With this in mind, I've decided to put together this guide, so you don't have to go through what I did.
Step 1.) Download Blade & Soul 2 and Purple's Installation Files
Alright. To start this off you're going to be required to download and install the Purple Client. This is NCSoft's in-house platform that allows you to play games like this on your PC.
You could download it via their website, but I'd advise against doing so. The download from their website also installs one of the Lineage Mobile games onto your PC instead of Blade & Soul 2.
To download the correct Purple Client, and subsequently Blade & Soul 2, you're going to be required to click the link below:
After clicking the link and navigating on over to our website, scroll down until you see the download link. The file in question is BNS212_PURPLE_Installer.exe and is 390MB.
This file is 100% safe, as you can see if you watch the video above, and is absolutely necessary to download and install the game. Without it, I was not able to play the game. So be warned.
Step 2.) Install the Purple Platform
So, run through the normal installation process. Set up the correct pathing for the game and the Purple platform. This should only take a moment.
After it's done installing, you're going to see a popup window asking you to log in.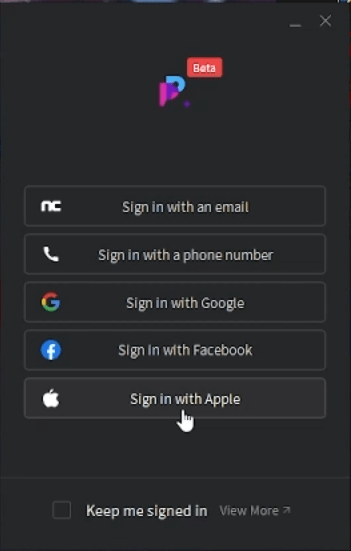 You can sign in with an email, phone number, social media accounts or your Apple account. I personally opted for my iPhone account as I wanted to be able to play the game completely cross-platform whenever I wanted, so connecting via that worked perfectly for me.
Step 3.) Load up Your VPN
Now before we go any further, stop. To be able to successfully see, download, install and play the game – you're going to want to boot up a VPN.
The one I use is ExitLag.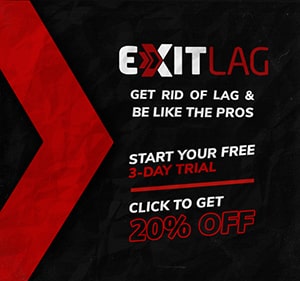 That link above will allow you several days PREMIUM access completely free to test this out. So click it, sign up for an ExitLag account, then boot ExitLag up.
You're then going to want to locate both the "NC Purple" and "Blade & Soul 2" options in the list to the left, and have them added as active connections.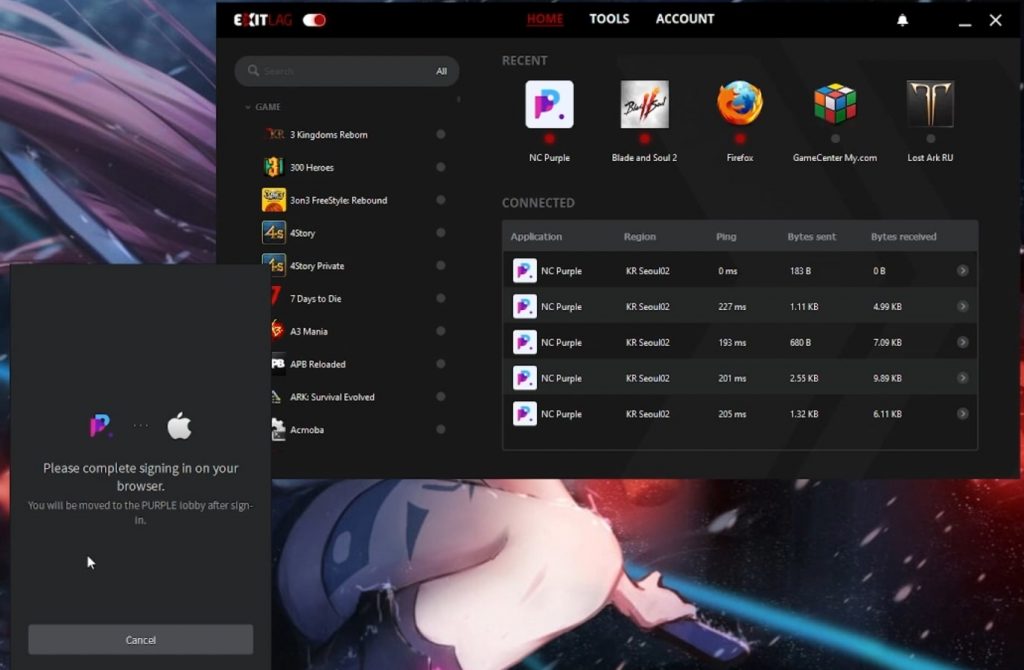 This means that when you boot Purple up, it will connect via a Korean IP, and when you log into Blade & Soul 2, it will do the same.
Now, relaunch Purple, and choose an option to log in with. Purple is going to run a fairly large update on the client, but if you used the VPN correctly you'll see a list of the games on the left in Korean, including Blade & Soul 2.
Again, you're going to have to wait out the update, and depending on your connection, this can take a while. I believe it took 15 minutes? Maybe a little less for mine to complete.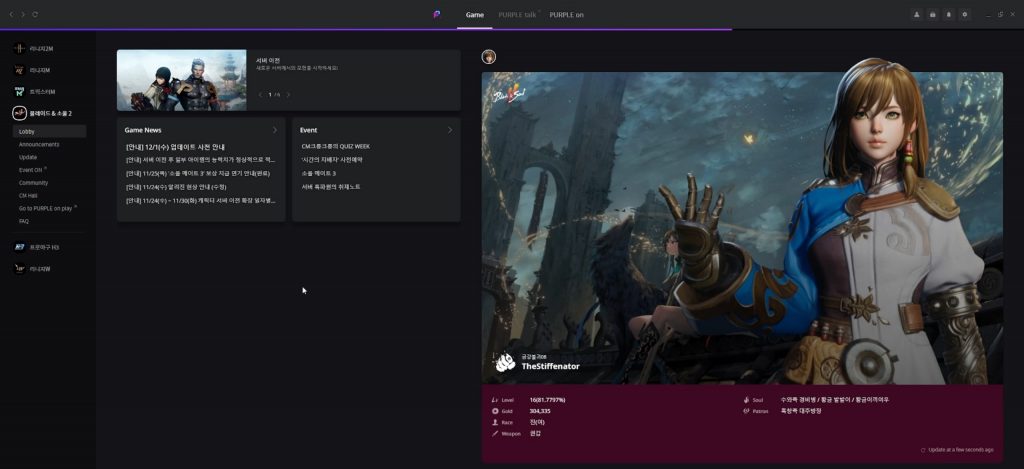 And yes, you can see my character over there – TheStiffenator. She actually, legitimately looks incredible. I created quite the masterpiece in-game. It's okay to be jealous.
Step 5.) Load the Newly Updated Purple Client
After the patching is complete, Purple is going to require a restart to apply the changes. Make sure your VPN is still open when reconnecting to Purple.

If all went well, you should now see, once again, the game selection over on the left. However this time it will be in English.
Step 6.) Update Blade & Soul 2
If you used the installation file from our website, then Blade & Soul 2 should already be installed, and should have the option to "Update." If you did this incorrectly, you'll see the option to "Install" the game instead.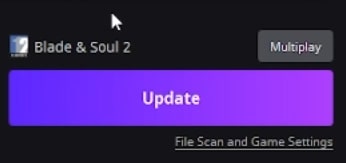 Which, if that's the case, uninstall everything, and start over, as this WILL NOT work. You'll receive crashes and won't be able to log into the game.
Begin the update, and… wait. A long time. My update took 3 hours? 4 hours I believe. The update is really quite large, so you might wanna find something to do in the meantime.
Once the update is complete, you'll be able to click "Start Game." Again, make sure your VPN is on when you do this. Now at this point, you're going to need to do one additional step before logging into the game.
Step 7.) Setup Your Account
Navigate on over to the PlayNC website, and log in to your account. Use whatever method you used when signing into Purple for the first time.
Make sure your Country is set to Korea, agree to all the terms, and then log in to your account. Make your way on over to your profile, and go to your Contact information.

Here you'll want to set up your Recovery Phone Number. This will allow you to get into the game in a moment.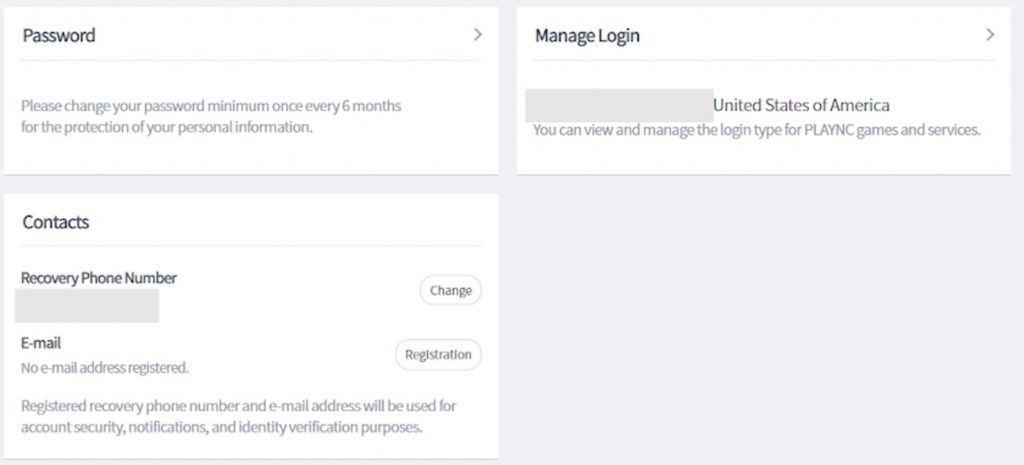 After saving your information, go back to the game, and click "Start Game."
Step 8.) Confirm Your Account In-Game
Give the game a couple minutes to boot up. After clicking on the screen, you're going to get a notification requiring you confirm your identity via SMS. This is why you added it to your profile.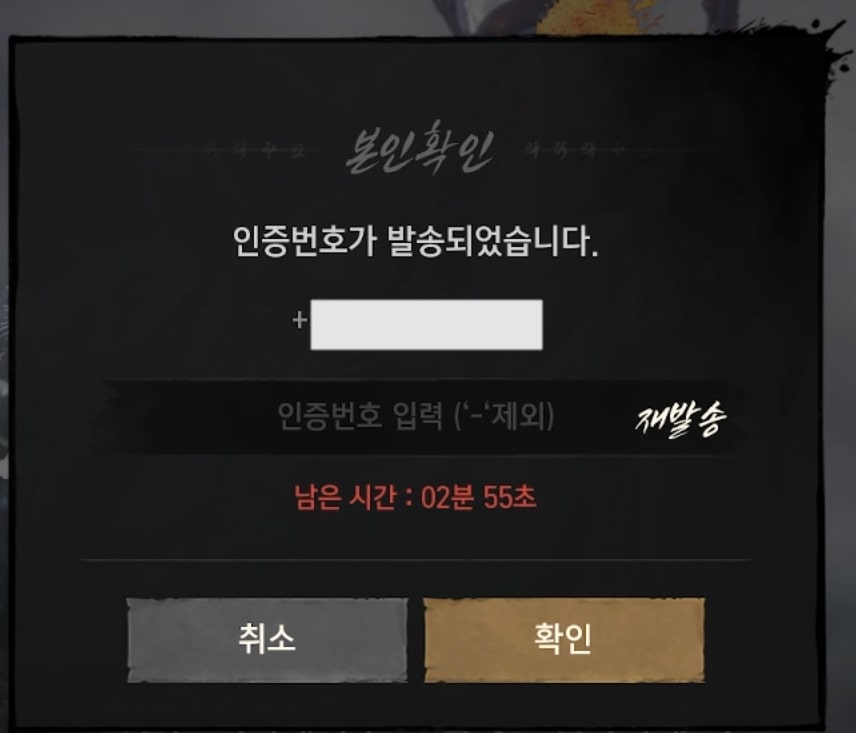 Click confirm, then type in the confirmation code you received via text. That's it, now you can successfully log into the game.
The launcher should be entirely in English, but unfortunately the game right now isn't. That doesn't mean it won't be translated soon enough however.
Now if you attempt to play the game without a Korean VPN, you'll encounter crashes. Simply boot up a VPN, once again, one like ExitLag, and you should be more than capable of logging in and playing it to your hearts content.
Now if this guide was helpful, consider letting me know in the comment section below! Alternatively, if you're experiencing any issues, let me know and I'll do what I can to help.